Billiard school Park Startbaan
For those who want to learn how to play billiards, or who want to improve their game…
Billiard school Park Startbaan is accessible to everyone who would like to play billiards and improve his or her game. All billiard players are welcome at the new billiard school, whether they play at one of the associations, or rent a table themselves, or have not yet played at Biljartcentrum Park Startbaan. Players who play billiards elsewhere can also take lessons at the new billiard school.
Every billiard player has his own way of playing billiards, with strengths and weaknesses.
The billiards teacher therefore draws up a personal lesson program together with the billiards player. It is customary to start with a trial lesson, to see if the chosen lesson meets expectations. In order to be able to practice sufficiently, the lesson programs consist of an agreed series of lessons.
Content of the lessons
Beginners
In these lessons, attention is paid to the basic techniques. Think of posture, hand position, punching technique, aiming point and hitting point, clean rolling, shooting and pulling. In addition, you will gain more insight into the patterns that can be played.
Technique improvement
Are you an advanced billiards player or have played billiards before and you want to pick it up again, then you are familiar with the basic techniques (although the billiards teacher will certainly correct you if necessary). You will then learn to improve your punching technique and you will practice different playing patterns. If you are even more advanced then it is time to pay attention to making the right choice and to think ahead, for example by "collecting" the balls. The goal is to progress, which also increases the fun in the game.
Several billiard teachers
Billiard school Park Startbaan has experienced billiard teachers, each with their own qualities. Professionals who, based on extensive experience and qualification, are ready to guide you in learning or improving your game. The teachers have a clear mission: to guide you, as a new or experienced billiard player, in improving your playing level and increasing your fun in the fascinating sport of billiards.
An individual lesson program
All lessons have a strong individual character and match your level and wishes. Because the efficiency of the lesson is highest when the teachers connect with the individual billiard player, the teachers will preferably teach 1 or in very small groups (maximum 3 people) at the same time.
Lessons are preferably given on Friday, Saturday and Sunday and are always by appointment.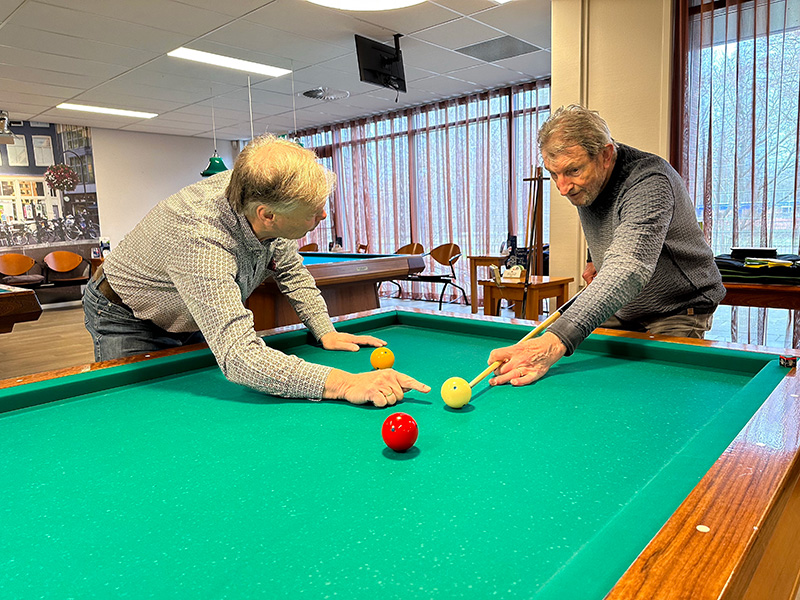 Paul Beijnes
Paul is a real specialist in the billiard world. He has been teaching the beautiful billiard sport for about 25 years. He himself took lessons from Gerard Klinkert, a phenomenon among billiard teachers. Paul has received a very positive reference from Gerard, but his students are also audibly enthusiastic about his approach and approach.
Paul gives his lessons individually or in small groups of a maximum of 2 or 3. His strongest point is praised by everyone: his patience!
Paul was active in the graphic sector in his working life; he had a printing business in Amsterdam.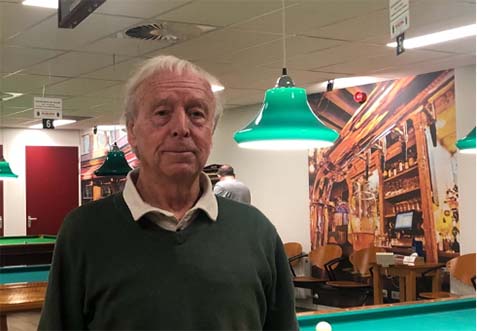 Peter Oskam
The cheerful Peter Oskam is a retired special secondary education teacher and learning something different is in his blood. Billiards is his great hobby and he has been doing this since childhood. Peter is a member of BV Velsen, has been playing in the national balkline competition for over 20 years (with leader Mike Hofland) and has been a KNBB certified billiards instructor A since 2016.
As a billiards teacher, he teaches both beginners and highly technical players and all those in between who want to improve their game, individually or in small groups. His approach is structured, with attention to theory and especially practical game advice.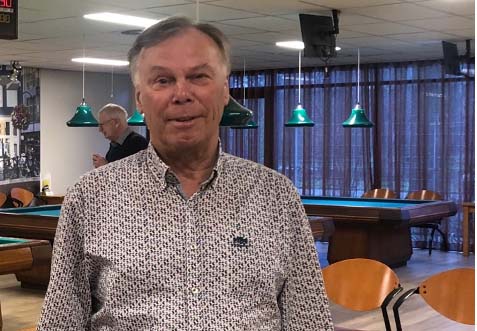 Richard Gustke
Richard works as a logistics manager at the Amsterdam University of Applied Sciences. He plays in the national competition of the KNBB and is a member of Excelsior in Amsterdam. With an average of 60, it is virtually unrivaled in the region.
Richard prefers to give his lessons individually and focuses mainly on the more advanced player who wants to increase his average. The training of what has been learned in the lessons is very important. He has been teaching for 15 years now and can therefore certainly be called an experienced billiards teacher
UPDATE May 2, 2023: Richard is temporarily unavailable as a teacher until further notice.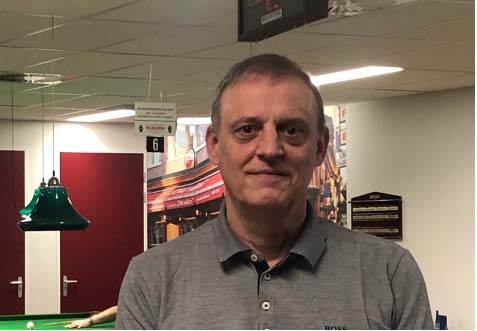 Prices
Paul Beijnes
Hourly rate 40,00 euro – including material and table rental.
(In group of 2: 22,50 euro per pesoon; in group of 3: 17,50 euro per person)
Peter Oskam
Hourly rate 40,00 euro – including material and table rental.
(In group of 2: 22,50 euro per person; in group of 3: 17,50 euro per person)
Richard Gustke
Hourly rate 45,00 euro per person – including material and table rental.
General information
Prices are 2023 price level
Tuition fees are settled directly with the billiards teacher.