Renting a outdoor tennis court in Winter
Outdoor tennis in Winter
It will also be possible to play tennis outside on clay in the winter of 2022-2023. Outdoor courts 1 to 4 will remain open as long as possible.
The outdoor courts 1 and 2 are available to non-members. The costs are 16 euros per hour for non-members of LTC Startbaan and 13.50 for members. The courts can be booked via the reservation system on this site.
The outdoor courts 3, 4, 5 and 6 will be available for members of LTC Startbaan from November 1, 2022. Members can reserve these courts via the (digital) reservation system.(this is still subject for decision by the board of LTC Startbaan)
In (moderate to severe) frost, the courts can become temporarily or permanently unplayable. Usually the groundsman has marked off the lanes with the red/white chains. This means that there is absolutely no playing allowed, even if the courts are looking good. If you do go onto the courts, the courts can be seriously damaged.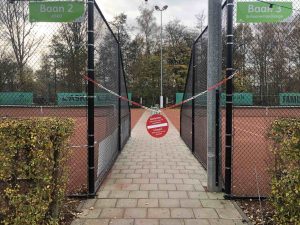 Regular year maintenance takes place in the spring. Then the courses are of course no longer available to play. The dates will be stated on the website and the reservation pages will also be blocked for this.
In general: already rented courts can be canceled up to 24 hours in advance. See the cancellation page.
Rent, reserve and availability of outdoor courts per hour in the winter season
For both members and non-members, the courts 1 and 2 can be booked online via www.parkstartbaan.baanhuur.nl.
The reservation system used for members in the summer will be available for outdoor courts 3, 4, 5 and 6 from November 1, 2022.
Discount on hourly outdoor tennis courts rental in winter season
For members of LTC Startbaan, the outdoor courts 1 and 2 are available for 13.50 euro, for non-members the costs are 16.00 euro per hour.
Prices outdoor tenniscourts in Winter
Outdoor courts 1-2
Monday to Friday
| Time | Price 1 hour non-members | Price 1 hour members LTC |
| --- | --- | --- |
| 09.00 – 22.00 | € 16,00 | € 13,50 |
Outdoor courts 1-2
Saturday and Sunday
| Time | Price 1 hour non-members | Price 1 hour members LTC |
| --- | --- | --- |
| 09.00 – 22.00 | € 16,00 | € 13,50 |