Padel – Clinics en lessons – info en aanvraag
Clinics
Introduction clinics
Would you like to get acquainted with padel and learn how to play this great game? Then our introductory clinics are perfect for you! In just one hour you will learn the basics of the game, become acquainted with different forms of play and receive an explanation of the rules of the game. Our experienced padeller, Zar Lasahido, will guide you during these introductory clinics and help you quickly master the intricacies of the game.
To participate in the clinics, you can register directly with Zar Lasahido via padel@parkstartbaan.nl. Please note that registration is only complete if there is sufficient participation (at least 4 people) and after payment via our handy webshop on the  booking pages. You can register individually or as a group of 4 people.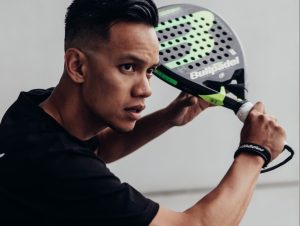 The costs are only 13.25 euros per person per clinic hour, including guidance, balls, racket rental, but excluding court rental, which depends on the time of the clinic and the then applicable court rental price. If you prefer to participate with a group of 4 people, you can also use our  webshop.
Lessons
Welcome to Padel Park Startbaan, the place to improve your padel skills! Whether you are a novice player or already have experience, our experienced padel trainers led by Zar Lasahido are ready to guide you to new heights in the padel game.
At Padel Park Startbaan we believe in the power of personal attention and fun. Our lessons are challenging, fun and suitable for players of all ages and levels. Whether you want to train individually, play with a partner or prefer to train in a group, we offer flexible lesson options to suit your needs.
Our passionate trainers provide a varied training program in which technique, tactics and fun come together. They will help you develop your skills, refine your playing strategy and build confidence on the court. Whatever your level, we strive to enrich your padel experience and help you achieve your goals.
Do you want to improve your padel strokes or pay more attention to specific strokes? Register now for a series of lessons in the fall of 2023.
Zar Lasahido's lessons are of excellent quality and high intensity. You get value for your money.
Package of 10 lessons
It is a 10-week package in which all strokes are learned, but where attention can also be paid to specific strokes that one wants to improve. There is a lot to learn in padel. Just think of the different types of typical padel strokes such as the bandeja, chiquita, vibra, bajada. Playing padel well is difficult, but with a lot of training you will improve and playing will become more and more fun..
Classes start Monday September 5. Lessons for 1 to 4 players.
Monday 5:00 PM to 10:00 PM
Tuesday 5:00 PM to 10:00 PM
Friday 09:00 to 14:00
LESSONS INFORMATION:
A series of lessons for 1 to 4 people
10 lessons
Including balls
Lesson duration: 60 minutes
Costs €82 (regardless of 1, 2, 3 or 4 people, i.e. the costs are shared for more people) per lesson, including court rental
Do you want to participate in group lessons, but you don't have a regular group yet? No problem, we will schedule you with one of the existing groups.
Register quickly because the sought-after time slots are quickly gone. Register with Zal Lasahido by email at padel@parkstartbaan.nl