Park Startbaan 2023 – Terrace
Renewal terrace
In March 2022, the road workers renovated the terrace, namely the part where the grandstand stood at court 1.
What is the idea behind the plans for the renovation of the terrace?
The common thread is: involve the clubhouse and the terrace more in the outdoor courts.
In the short term we want to tackle the terrace in a learning way. This mainly concerns the situation between the terrace and the strip along runway 1, on which the grandstand is located. The removal of the grandstand at that location results in a more spacious terrace along runway 1. This idea has been well received at various presentations.
The question then is how this area can be involved in the expansion of the clubhouse and the terrace development. Using the existing level differences, we want to arrange this part of the terrace as detailed in the accompanying drawing. Practice should show whether this provides a good view of the jobs. But it is also possible that for a definitive solution we have to work more with differences in level of the main terrace at the clubhouse and the area along the courses.
That definitive solution must then be implemented after the new clubhouse is completed in 2023.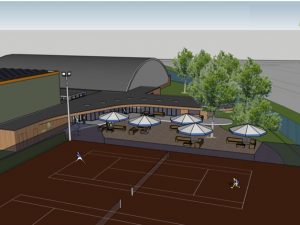 future situation